Cognatus System Solutions | Rapid Application Development | Coldfusion Web Applications | Client and Server Development | Data Migration Services
Software Downloads
" Monaco GP2X" (C++ and SDL)
2d racing game for the GP2x linux based handheld console. MORE INFORMATION.
" Monaco 360" (C# and XNA Games Studio 3.0)
Out now priced 200 Microsoft Points for the XBOX 360 media console. DOWNLOAD TRIAL.
Review by Stuart Cambell at http://worldofstuart.excellentcontent.com


Monaco GP2x for the GP2x handheld media console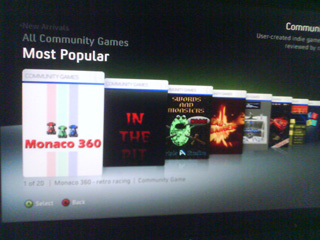 Monaco 360 for the XBOX 360 (most popular)
Copyright @ Cognatus System Solutions 2007... All rights reserved.